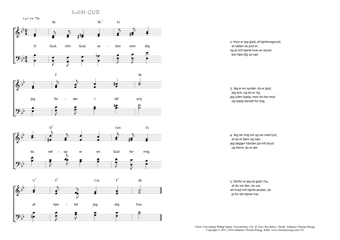 Christ My Song - 152
O Gud, min Gud, sådan som dig - Min Gud
(Carl Johann Philipp Spitta/Christian Benedictus Reventlow/ Johannes Thomas Rüegg)
Min Gud.
1. O Gud, min Gud, sådan som dig
jeg finder i dit ord,
du netop er en Gud for mig,
af hjertet jeg dig tror.
2. Hvor er jeg glad, af hjertensgrund,
at sådan du just er,
og at mit hjerte hver en stund
kan føle dig så nær.
3. Jeg er en synder, du er god,
jeg arm, og du er rig,
jeg uden hjælp; men du har mod
og hjælp beredt for mig.
4. Jeg ser mig om og ser med lyst,
at du er fjern og nær;
jeg lægger hånden på mit bryst
og Herre, du er der.
5. Derfor er jeg så glad i hu,
at du var den, du var;
alt hvad mit hjerte ønsker, du
jo for din tjener har.
Christian Benedictus Reventlow, Spitta's Psalter og Harpe II, 1873, 34-35.
Translated from the German O Gott, mein Gott, so wie ich dich - Mein Gott!
of Carl Johann Philipp Spitta.