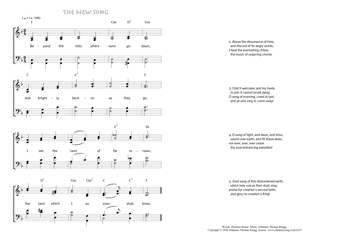 Christ My Song - 2227
Beyond the hills where suns go down - The New Song
(Horatius Bonar/Johannes Thomas Rüegg)
The New Song.
1. Beyond the hills where suns go down,
and brightly beckon as they go,
I see the land of far renown,
the land which I so soon shall know. PDF - Midi
2. Above the dissonance of time,
and discord of its angry words,
I hear the everlasting chime,
the music of unjarring chords.
3. I bid it welcome; and my haste
to join it cannot brook delay.
O song of morning, come at last,
and ye who sing it, come away!
4. O song of light, and dawn, and bliss,
sound over earth, and fill these skies,
nor ever, ever, ever cease
thy soul-entrancing melodies!
5. Glad song of this disburdened earth,
which holy voices then shall sing;
praise for creation's second birth,
and glory to creation's King!
Horatius Bonar, Hymns of Faith and Hope II, 1878, 108-109.