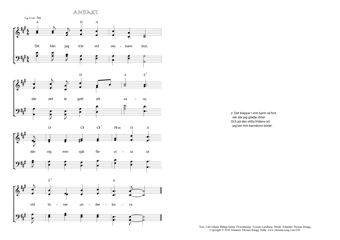 Christ My Song - 250
Dit hän jag trår vid veckans slut - Andakt
(Carl Johann Philipp Spitta/Torsten Lundberg/
Johannes Thomas Rüegg)
Andakt.
1. Dit hän jag trår vid veckans slut,
där det är gott att vara,
där sig min själ får vila ut
vid toner underbara.
2. Det klappar i min barm så fort,
när där jag glädje röner.
Och på den stilla fridens ort
jag ber min barndoms böner.
Torsten Lundberg, Psaltare och Harpa - Andliga Harposånger af Filip Spitta III, 1909, 69.
Translated from the German Mir ist so wohl in Gottes Haus - Andacht
of Carl Johann Philipp Spitta.